decipher

de·ci·pher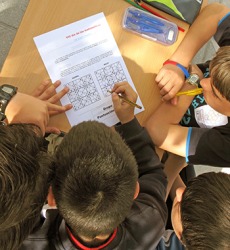 The students worked as a group to decipher the puzzle in order to find the answer.
verb
To decipher is defined as to decode or work out a hidden meaning.

An example of to decipher is to use a key to understand a coded message.
---
decipher
to translate (a message in cipher or code) into ordinary, understandable language; decode
to make out the meaning of (ancient inscriptions, illegible writing, etc.)
Origin of decipher
de- + cipher
---
decipher
transitive verb
de·ci·phered, de·ci·pher·ing, de·ci·phers
To read or interpret (ambiguous, obscure, or illegible matter).
To convert from a code or cipher to plaintext; decode.
Related Forms:
de·ci′pher·a·ble

adjective
---
decipher

Verb
(third-person singular simple present deciphers, present participle deciphering, simple past and past participle deciphered)
---
decipher - Computer Definition
---