cookie

cook·ie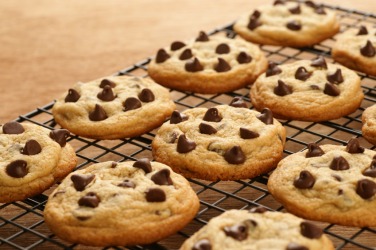 Fresh baked chocolate chip cookies.
noun
The definition of a cookie is a sweet treat that is typically round and flat, a term used to refer to a person with some distinguishing characteristic, or a packet of information sent over the Internet that allows websites to identify a return user.

A sweet chocolate chip treat is an example of a cookie.
A person who is strong and resilient is an example of someone who might be described as a tough cookie.
The information your computer sends and receives when you sign into a website that tells the site who you are the next time you go back is an example of a cookie.
---
cookie
a small, sweet cake, variously shaped, filled, etc., but usually flat and either crisp or chewy

Scot.

a bun

Slang

a person, esp. one qualified as tough, smart, shrewd, etc.
an attractive young woman

Comput.

a small file placed automatically by a website or an online service onto the hard disk of someone accessing that website or service, for the purpose of storing information about and later recognizing that user
Origin of cookie
probably Dutch
koekje,
diminutive of
koek,
a cake; akin to cake
toss one's cookies
Slang
to vomit; throw up: a humorous euphemism
---
cookie
also cook·y
noun
pl.
cook·ies
A small, usually flat and crisp cake made from sweetened dough.
Slang A person, usually of a specified kind: a lawyer who was a tough cookie.
Computers A collection of information, usually including a username and the current date and time, stored on the local computer of a person using the World Wide Web, used chiefly by websites to identify users who have previously registered or visited the site.
Origin of cookie
Dutch
koekje
diminutive of
koek
cake
from
Middle Dutch
koeke
akin to
German
Kuchen
Old Norse
kaka
cake
---
cookie

Noun
(plural cookies)
(North America) A small flat, baked cake which is either crisp or soft but firm (often with chocolate chips, candies or nuts mixed in.)
(UK) A specifically American-style biscuit.
(Scotland) a bun.
(computing, browsers) An HTTP cookie, web cookie.
(computing) A magic cookie.
(dated, possibly offensive) A young, attractive woman.
Origin
From Dutch koekje (possibly through dialectal variation koekie), diminutive of koek ("cake"), from Proto-Germanic *kōkô (compare Low German Kook, German Kuchen). More at cake.
---
cookie - Computer Definition

Contrary to what some individuals think, cookies are not in themselves a security risk. They are simply small bits of data that are commonly transmitted from a Web server to a Web browser. Cookies can also be entirely processed client-side. The browser stores the message in a text file, and each time the browser requests from the server a particular page, the message is sent back to the server. One of the most widely known uses of cookies is to personalize a Website for users. That is, when users enter a Website, they may be asked to complete forms indicating their name and certain particulars. Instead of seeing a generic welcome page, users are later greeted with a page including their identifiers stored in the cookies.
Nevertheless, there is controversy surrounding cookies. For example, cookies can be accessed, read, and used by malicious Websites unintentionally visited by innocent users. This cookie information can be used to gather intelligence on the user and later used against the user, or the cookie information can be used to access the original Website.
---
A small text file (up to 4KB) created by a website that is stored in the user's computer either temporarily for that session only or permanently on the hard disk (persistent cookie). Cookies provide a way for the website to recognize you and keep track of your preferences. Cookies Are Beneficial Cookies are commonly used to "maintain the state" of a browser session. For example, users can place items in a shopping cart, switch to another page or even another site, and when they come back, the site recognizes them and the current state of the cart. See state and stateless. Cookies contain a range of URLs (addresses) for which they are valid. When the Web browser or other HTTP application sends a request to a Web server with those URLs again, it sends along the related cookies. For example, if your user ID and password are stored in a cookie, it saves you from typing in the same information all over again when accessing that service the next time. By retaining user history, cookies allow the website to tailor the pages and create a custom experience for each individual. Your Cookies Know You Quite a bit of personal data may reside in the cookie files in your computer. As a result, this storehouse of private information is sometimes the object of attack (see cookie poisoning.) First-Party Personal Cookies The default settings in your Web browser typically allow "first-party" cookies, but not "third-party" cookies. First-party cookies are created by the website you are visiting and are necessary to keep track of your personal preferences and the current session as explained above. Third-Party Tracking Cookies Third-party cookies are created by a website other than the one you are currently visiting; for example, by a third-party advertiser on that site. The purpose of such cookies is usually to track your surfing habits, which is why third-party cookies are considered an invasion of privacy and riskier than first-party cookies. Configuring Settings A Web browser can be configured so that only first-party cookies coming from the originating sites are maintained. It can also be set to prevent all cookies from being stored in your computer, but that severely limits the Web surfing experience. To change settings, look for the cookie options in your browser in the Options or Preferences menu. See Web bug, cookie file, Flash cookie, Evercookie, magic cookie and state.
---