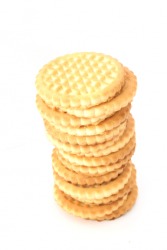 A stack of shortbread biscuits.
noun
The definition of a biscuit is a baked good made using flour, shortening, baking powder or soda and other ingredients.

An example of a biscuit is a buttermilk biscuit served with gravy.
An example of a biscuit in the UK is a sweet cracker served at tea time.
---
biscuit
noun
pl.

-·cuits

or

-·cuit
Chiefly Brit.

a crisp, unleavened wafer; cracker or cookie

a quick bread, made light by baking powder, soda, or yeast, and baked in small pieces
any of these pieces

light brown; tan
pottery or porcelain after the first firing and before glazing
Origin of biscuit
Middle English
bisquit, besquit
from Old French
bescuit
(altered, under influenced, influence of OIt
biscotto
) from Medieval Latin
biscoctum
from
(panis) bis coctus,
(bread) twice baked from Classical Latin
bis
, twice (see binary) +
coctus,
past participle of
coquere,
cook
---
biscuit
noun
pl.
bis·cuits
A small cake of shortened bread leavened with baking powder or soda.
Chiefly British

a. A thin, crisp cracker.

b. A cookie.

A hard, dry cracker given to dogs as a treat or dietary supplement.
A thin, often oblong, waferlike piece of wood, glued into slots to connect larger pieces of wood in a joint.
A pale brown.
pl. biscuit Clay that has been fired once but not glazed. Also called bisque 2.
Origin of biscuit
Middle English
bisquit
from
Old French
biscuit
from
Medieval Latin
bis coctus
Latin
bis
twice
; see
dwo-
in Indo-European roots.Latin
coctus
past participle of
coquere
to cook
; see
pekw-
in Indo-European roots.
---
biscuit

Noun
(plural biscuits)
A cookie.
(UK) A cracker.

cheese and biscuits

(chiefly North America) A small bread usually made with baking soda, similar in texture to a scone, but usually not sweet.
A form of unglazed earthenware.
(nautical) The "bread" formerly supplied to naval ships; made with very little water, kneaded into flat cakes and slowly baked; often infested with weevils.
A light brown colour.

(woodworking) A thin oval wafer of wood or other material inserted into mating slots on pieces of material to be joined to provide gluing surface and strength in shear.
Usage notes
In British usage, a biscuit is distinct from a cake; the former is generally hard but becomes soft when stale, whereas the latter is generally soft but becomes hard when stale.
Origin
From bisket, from Old French bescuit (French: biscuit).
---