Brownie
[bro̵un′ē]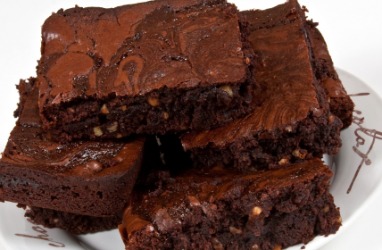 A plate of chocolate brownies.
---
Brownie
noun
Folklore

a small brown elf or goblin that does helpful tasks for people at night
a member of the division of the Girl Scouts for girls six to eight years of age
☆ a small bar or square of a kind of flat, dense, rich chocolate cake often containing nuts
---
Brownie
noun
Brownie A member of the Girl Scouts from six through eight years of age.
A bar of moist, usually chocolate cake, often with nuts.
A small sprite thought to do helpful work at night.
A brown trout.
Origin of brownie
Sense 3, from the notion of the sprite as a tiny brown man
.
---
Brownie
Noun
(plural brownies)
(paganism) A household spirit or revered ancestor.
(Australia, New Zealand, colloquial) A tall, long-necked beer bottle, made from brown coloured glass.
Origin
From the story "The Brownies" by Juliana Horatia Ewing, written in 1870. In the story two children, Tommy and Betty, learn that children can be helpful brownies or lazy boggarts.
---
Brownie
Variant of brownie
noun
Folklore

a small brown elf or goblin that does helpful tasks for people at night
a member of the division of the Girl Scouts for girls six to eight years of age
☆ a small bar or square of a kind of flat, dense, rich chocolate cake often containing nuts