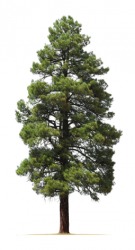 The Ponderosa pine is a coniferous tree.
adjective
The definition of coniferous is something related to trees that have cones.

A pine tree is an example of a tree that would be described as coniferous.
---
coniferous
bearing cones
of conifers
---
coniferous

Adjective
(comparative more coniferous, superlative most coniferous)
Bearing cones, as the pine and cypress.
Of, or pertaining to, a conifer.
---