combustible
com·bus·ti·ble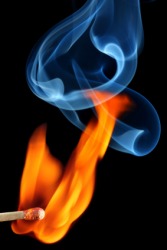 The tips of matches have a very combustible coating.
adjective
The definition of combustible is something that is prone to catching fire or is being excitable or easily annoyed.

Flammable material is an example of something that would be described as combustible.
---
combustible
that catches fire and burns easily; flammable
easily aroused; excitable; fiery
Origin of combustible
French from Medieval Latin
combustibilis:
see combustion
---
combustible
adjective
Capable of igniting and burning.
Easily aroused or excited.
noun
A substance that ignites and burns readily.
Related Forms:
---
combustible

Adjective
(comparative more combustible, superlative most combustible)
Capable of burning

Dumping fertilizer on top of whatever mysterious goop was in the storage tank created a combustible mix which caught on fire.

(figuratively) Easily kindled or excited; quick; fiery; irascible.
Noun
(plural combustibles)
A material that is capable of burning.
Origin
From Middle French combustible
---