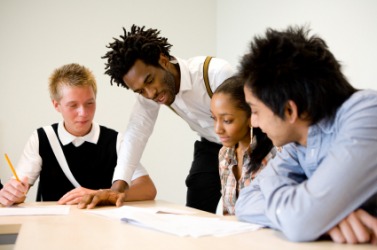 A teacher helping a student while her classmates look on.
noun
The definition of a classmate is someone who attends the same class at school.

The person who sits next to you in your math class is your classmate.
---
classmate
☆
noun
a member of the same class at a school or college
---
classmate
noun
A member of the same class at school.
---
classmate
Noun
(plural classmates)
Someone who is in the same class (in school)

Danny and I have been classmates for five years, but I've never spoken to him outside of lessons.
---
classmate - Computer Definition
A low-cost PC from Intel for the education markets of developing countries. Part of Intel's World Ahead program and introduced in May 2006, the Classmate became competition for the non-profit One Laptop Per Child initiative of Nicholas Negroponte (see OLPC). However, Intel joined the board of OLPC in July 2007 and is expected to collaborate on future products. Linux and Windows Based - No Hard Disk Like the OLPC, the Classmate has no hard disk. It uses 2GB of flash memory for storage and 256MB of main memory. It can run Windows XP Pro, a beginner's version of Mandriva Linux as well as Metasys Classmate, an educational operating system based on Linux. The Classmate is powered by a 900 MHz Celeron M processor.
---