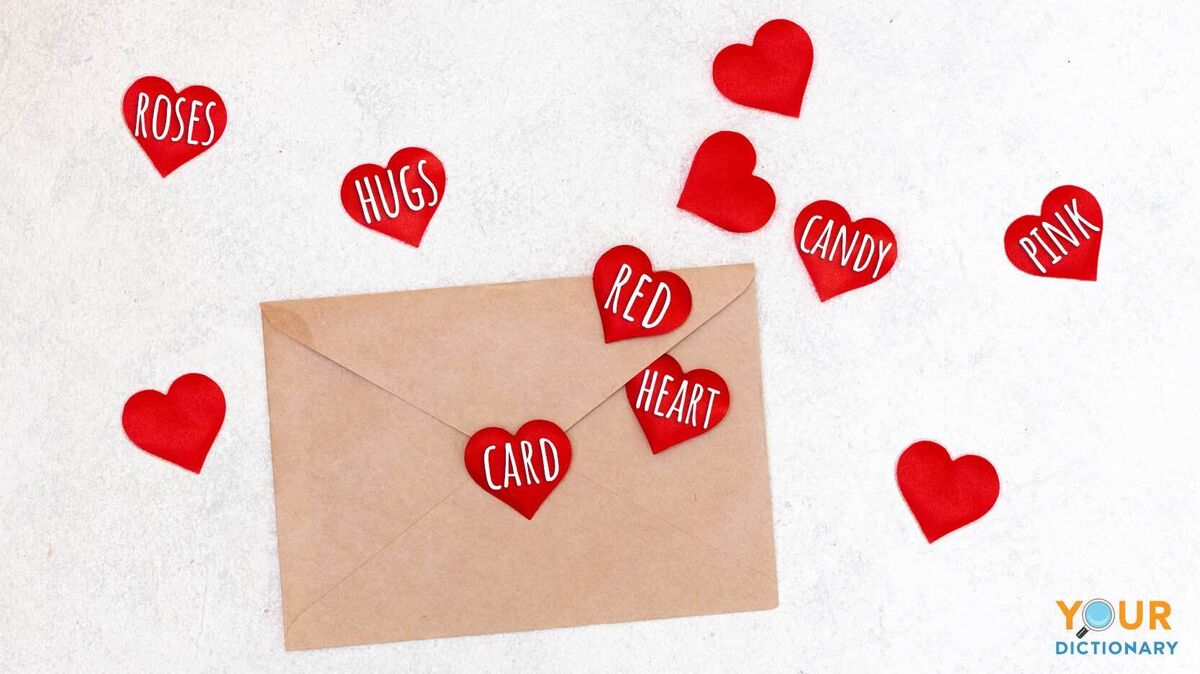 What do love, flowers and February have in common? They are all words for Valentine's Day! Use these valentine words in your classroom games and activities to share the love this February 14th.
Valentine's Words For Any Activity
If you're having trouble thinking of enough words for Valentine's Day, you'll find what you're looking for here. No matter how you're celebrating Valentine's Day in the classroom or at home, these Valentine's Day-themed words are a great addition.
Valentine's Day Holiday Words and Phrases
What comes to mind when you hear the words Valentine's Day? If it's candy hearts and Cupid's bow and arrow, you're probably not alone. Check out these words that immediately connect with Valentine's Day.
| | | |
| --- | --- | --- |
| bow and arrow | be mine | candy hearts |
| Cupid | February 14th | Happy Valentine's Day |
| heart | holiday | pink |
| red | St. Valentine | Valentine's Day |
Valentine's Day Words About Celebration and Gifts
A special part of Valentine's Day is the traditional gifts given to show love and friendship. Use this word list about celebrating Valentine's Day with gifts in your next word search or holiday game.
| | | |
| --- | --- | --- |
| box of chocolates | candy | card |
| celebrate | cookies | decorations |
| diamond | flowers | forget-me-nots |
| gifts | greeting card | jewelry |
| love letter | party | poem |
| presents | roses | ribbons |
| ring | teddy bear | valentine |
Valentine's Day Vocabulary Words and Expressions About Love
The beauty of Valentine's Day is that it celebrates all love, not just romantic love. Choose these words to fill out a classroom list or to add to a vocabulary assignment.
| | | |
| --- | --- | --- |
| admirer | affection | beautiful |
| boyfriend | couples | courtship |
| crush | cuddle | darling |
| date | dear | family |
| feelings | fiancée | flirt |
| forever | friend | friendship |
| girlfriend | handsome | honey |
| hugs | husband | I love you |
| infatuation | kisses | love |
| love is in the air | lovers | marriage |
| proposal | romance | romantic |
| secret admirer | smooch | soulmates |
| sweet | sweetheart | together |
| true love | wife | XOXO |
Valentine's Day Word Games and Activities for All Ages
It's easy and fun to incorporate Valentine's Day vocabulary into your classroom. Just use the above words in puzzles, hangman games, word searches and jumbles, and fill-in-the-blank Mad-Lib games. Here are some ideas for using Valentine's Day words in your holiday lesson plans or at holiday parties.
Have students write a "love letter" (or "like" letter) to anyone — a friend, a parent, a classmate, their favorite celebrity, or even a fictional person. Use the lists above to encourage students to use as much Valentine's Day vocabulary as they can, including the words friendship, forever, holiday, and valentine.
Select some or all of the Valentine's words above as words for students to act out in front of the class. Encourage them to add verbs to the lists above, such as "eating Valentine's candy," "blowing kisses" or "handing out valentines," and see if their classmates can guess their Valentine's Day actions.
Create Valentine's Day Jokes
Everyone likes to laugh, even on Valentine's Day! Encourage your class to write some hilarious jokes using the words from the lists above, including marriage, handsome and love letter. They can include the jokes in their class valentines or in a funny story.
Valentine's Day Pictionary
See how well students know their Valentine's Day vocabulary with a game of Pictionary. Team members select a word and draw it well enough for their teams to guess. To create your game, you'll want to choose words from the lists that your participants will know and be able to draw, such as teddy bear, beautiful and candy hearts.
Don't Say That Valentine's Word!
Can you describe the word Valentine without using the words heart, roses or Cupid? It's harder than it looks! Challenge students to play a version of Taboo with Valentine's-themed vocabulary words.
More Valentine's Day Activities
You can easily turn almost any game or activity into a holiday celebration by including valentine and Valentine's Day words.
Bringing Love to the Holiday
Now that you have some helpful Valentine's Day word lists, feel free to use them in any number of activities this February 14th. For more ideas about a Valentine's-themed class session, check out these examples of idioms about love for a figurative writing lesson. Or, if you're like to bring some Shakespeare into a Valentine's Day lesson, try out these soliloquy examples from Romeo and Juliet.