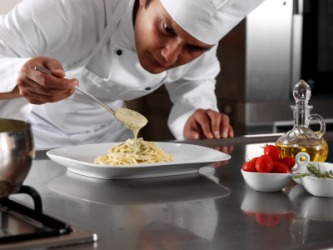 A chef putting the finishing touches on a plate of pasta.
noun
The definition of a chef is a person who cooks for a living, or a cook who manages a kitchen staff.

Someone who has a job cooking at a fine dining restaurant is an example of a chef.
---
chef
a cook in charge of a kitchen, as of a restaurant; head cook
any cook
Origin of chef
French from
chef de cuisine
, literally , head of the kitchen: see chief
---
chef
noun
A cook, especially the chief cook of a large kitchen staff.
Origin of chef
French
short for
chef de cuisine
chef de cuisine
; see
chef de cuisine
.
---
chef

Usage notes
When used in reference to a cook with no sous chefs or other workers beneath him, the term is connotes a certain degree of prestige—whether culinary education or ability—distinguishing the chef from a "cook". As a borrowing, chef was originally italicized, but such treatment is now obsolete.
Origin
Borrowing from French chef (from the positions of chef d'office and chef de cuisine), from Old French chief ("head, leader") (English chief), from Late Latin capum ("head") (from which also captain, chieftain), from Latin caput ("head") (English cap ("head covering")), from Proto-Indo-European *kauput- (English head).
---