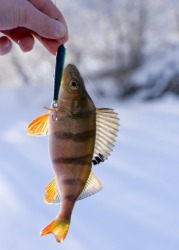 A freshly caught fish.
verb
The definition of caught means taken hold of and prevented from leaving, or spotted in the act of doing something wrong.

When you are spotted while in the process of shoplifting, this is an example of a situation where you are caught.
When you are trapped in an elevator that is broken, this is an example of a situation where you are caught in the elevator.

Caught is the past tense of catch and means that someone was trapped or something that was thrown was grabbed.

When someone threw you a ball and you grabbed it, this is an example of a situation where you caught a ball.
When you got a fish on your rod, this is an example of a situation where you caught a fish.
---
caught
transitive verb
,
intransitive verb
catch
Origin of caught
Middle English
cahte, cauhte
---
caught
verb
Past tense and past participle of
catch
.
---
caught
Verb
simple past tense and past participle of catch
---
caught
Variant of catch
transitive verb
caught, catching
to seize and hold, as after a chase; capture
to seize or take by or as by a trap, snare, etc.
to deceive; ensnare
to discover by taking unawares; surprise in some act: to be caught stealing
to strike suddenly; hit: the blow caught him in the arm
to overtake or get to in time; be in time for: to catch a train
to intercept the motion or action of; lay hold of; grab or snatch: to catch a ball

to take or get as by chance or quickly: to catch someone's attention, to catch a glimpse

Informal

to manage to see, hear, find, etc.: to catch a radio program

to take or get passively; incur or contract without intention, as by exposure: to catch the mumps

to take in with one's mind or senses; understand; apprehend
to show an understanding of by depicting: the statue catches her beauty

to captivate; charm
to cause to be entangled or snagged: to catch one's heel in a rug

Baseball

to act as catcher for (a specified pitcher, a specified game, etc.)
Origin of catch
Middle English
cacchen
; from Anglo-French
cachier
; from Vulgar Latin an unverified form
captiare
; from Classical Latin
captare
, to seize ; from past participle of
capere
, to take hold: see have
intransitive verb
to become held, fastened, or entangled: her sleeve caught on a nail
to take hold or spread, as fire
to take fire; burn
to take and keep hold, as a lock
to act or serve as a catcher
noun
the act of catching
a thing that catches or holds
the person or thing caught
the amount caught
a person worth catching, esp. as a husband or wife
a snatch, scrap, or fragment: catches of old tunes
a break in the voice, caused by emotion
☆ an exercise or a simple game consisting of throwing and catching a ball
☆

Informal

a hidden qualification; tricky condition: a catch in his offer

Music

a round for three or more unaccompanied voices

Sports

a catching of a ball in a specified manner

Baseball

the catching of a ball in flight and holding it firmly
adjective
designed to trick; tricky: a catch question on an exam
attracting or meant to attract attention or interest
catch as catch can
with any hold, approach, technique, etc.: originally said of a style of wrestling
catch at
to try to catch
to reach for eagerly; seize desperately
catch it
Informal
to receive a scolding or other punishment
catch on
☆
to grasp the meaning; understand
to become fashionable or popular
catch oneself
to hold oneself back abruptly from saying or doing something
catch out
Chiefly Brit.
to take notice of a person's error, inconsistency, or unacceptable action
catch up
to take or lift up suddenly; seize; snatch
to show to be in error
to come up even, as by hurrying or by extra work; overtake
to fasten in loops
catch up on
to engage in more (work, sleep, etc.) so as to compensate for earlier neglect