cartwheel
[kärt′hwēl′, -wēl′]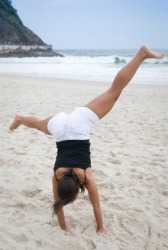 A woman doing a cartwheel at the beach.
---
cartwheel
noun
a kind of handspring performed sideways, with the arms and legs extended: often an optional exercise in gymnastic competition
☆

Slang

a large coin, esp. a silver dollar
intransitive verb
to perform cartwheels
---
cartwheel
noun
A handspring in which the body turns over sideways with the arms and legs spread like the spokes of a wheel.
intransitive verb
cart·wheeled
,
cart·wheel·ing
,
cart·wheels
To execute a cartwheel.
---
cartwheel
Noun
(plural cartwheels)
The literal wheel of a cart.
A gymnastic maneuver whereby the gymnast rotates to one side or the other while keeping arms and legs outstretched, spinning for one or more revolutions.
(US) A silver dollar of the larger size produced before 1979.
Verb
(third-person singular simple present cartwheels, present participle cartwheeling, simple past and past participle cartwheeled)
To perform the gymnastics feat of a cartwheel.
To flip end over end.

The race car hit a bump and cartwheeled over the finish line.
---