came

came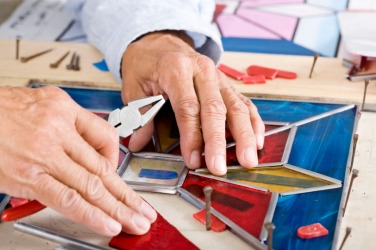 Came is the lead holding pieces of stained glass together.
noun
The definition of a came is a piece of lead that holds together glass panes.

An example of a came is a lead piece keeping a stained-glass window together.
verb
Came is defined as to have moved closer or to have arrived.

An example of came is to have arrived at the house yesterday.
---
came
a lead strip used to fasten together panes of glass, as in stained-glass windows
Origin of came
from uncertain or unknown; perhaps Middle Dutch
kaam
, literally , comb
---
came
noun
A slender grooved lead bar used to hold together the panes in stained glass or latticework windows.
Origin of came
Possibly
dialectal
kame
ridge
; see
kame
.
---
came

Preposition
Used to indicate that the following event, period, or change in state occurred in the past, after a time of waiting, enduring, or anticipation
Noun
(plural cames)
A grooved strip of lead used to hold panes of glass together.
Origin
Compare Scots came ("comb"), caim ("comb"), and Middle English camet ("silver").
See also:
camé
---