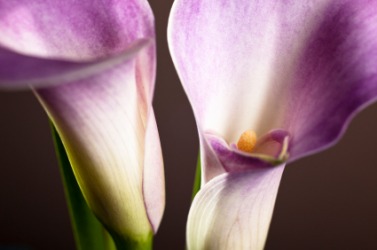 A close up of the calla lily.
---
calla definition by Webster's New World
noun
any of several plants (genus Zantedeschia) of the arum family, with a conspicuous white, yellow, or pink spathe surrounding a club-shaped, yellow spadix; specif., a plant (Z. aethiopica), having a large, showy, white spathe enclosing a yellow spadix
the wild calla (Calla palustris), a bog plant of the arum family, having greenish-white spathes and bearing bright-red berries
Origin: Modern Latin ; from Classical Latin calla, calsa, a plant (of uncertain kind): so named by Carolus Linnaeus
Webster's New World College Dictionary Copyright © 2010 by Wiley Publishing, Inc., Cleveland, Ohio. Used by arrangement with John Wiley & Sons, Inc.
---
calla definition by American Heritage Dictionary
noun
A calla lily.
A marsh plant (Calla palustris) of the North Temperate Zone, having small, densely clustered, greenish flowers partly enclosed in a spreading white spathe. Also called water arum.
Origin: New Latin Calla, genus name, from Greek kallaia, wattle of a cock, perhaps from kallos, beauty.