c
C++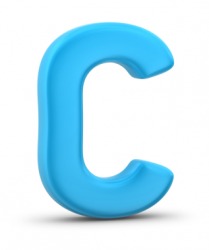 The letter C.
noun
The definition of c is the third letter of the English alphabet.

An example of c is the letter with which the word "central" begins.
---
c
or C
pl.

c's

,

C's
the third letter of the English alphabet: from the Greek gamma, a borrowing from the Phoenician
any of the speech sounds that this letter represents, as, in English, the (s) of cell or (k) of call
a type or impression of c or C
the third in a sequence or group
an object shaped like
of c or C
third in a sequence or group
shaped like
the speed of light in a vacuum
C
the Roman numeral for 100: with a superior bar (?), 100,000: when C is placed before a greater Roman numeral, it expresses a number 100 less than that numeral (e.g., CM = 900)
⌂

Educ.

a grade indicating average work: a C in biology

Music

the first tone or note in the scale of C major
a key, string, etc. producing this tone
the scale having this tone as the keynote
the sign for 4/4 time

a high-level computer programming language
C
candle

Elec.

capacitance
Cape
carat(s)

Baseball

catcher
cathode
Catholic
Celsius (or centigrade)
cent(s)
centavo(s)

Sports

center
centesimo(s)
centime(s)
centimeter(s)
centimo(s)
Central
century
chapter
child; children
circa
cold (on water faucets)
College
Congress
Conservative

Math.

constant
contralto
copyright
coulomb
cup(s)
curie
cycle(s)
cytosine

Origin of C

Classical Latin ; from earlier Caius

Rom. History

Gaius (the praenomen)

Physics

heat capacity

Origin of C

L centum hundredweight
Also, for 1, 4-6, 9-15, 17-20, 25-27, 29-31, 35,
c
C
C-
cargo transport: used in designations for aircraft: C-130, C-5A
---
c
or C
noun
pl.
c's
or
C's
also
cs
or
Cs
The third letter of the modern English alphabet.
Any of the speech sounds represented by the letter c.
The third in a series.
Something shaped like the letter C.
C The third best or third highest in quality or rank: a mark of C on a term paper.
Music

a. The first tone in the scale of C major or the third tone in the relative minor scale.

b. A key or scale in which the tone of C is the tonic.

c. A written or printed note representing this tone.

d. A string, key, or pipe tuned to the pitch of this tone.
Automobile Nameplate, El Camino
Part passenger car and part pickup truck, this Chevrolet model was introduced by General Motors in 1959.
abbreviation
Physics candle
carat
charm quark
circumference
also C Mathematics constant
cubic
C
noun
A widely used programming language.
C
The symbol for carbon.
also c The symbol for the Roman numeral one hundred.
c The symbol for the speed of light in a vacuum.
The symbol for capacitance.
The symbol for charge conjugation.
C
abbreviation
cell phone number
Celsius
Sports center
centigrade
Physics charm
cold
consonant
coulomb
cytosine
c.
abbreviation
capacity
cent
centavo
centime
centimo
chapter
circa
congius (gallon)
copy
copyright
cup
C.
abbreviation
cape
Celtic
or c. century
chancellor
C++
noun
A widely used object-oriented programming language based on C.
Origin of C++
From ++, name of an operator in the language
,
and from the use of the plus sign to indicate enhancement
.
---
c
---
c - Computer Definition
Symbol for the velocity of light in a vacuum, which is exactly 299,792.458 kilometers per second, or 186,282.397 miles per second.The nominal figures, used for ease of reference and approximate calculations, are 300,000 km/s and 186,000 miles per second. The velocity of propagation (Vp) is sensitive to the medium. See also Vp.
In 1900 the Ladies Home Journal magazine predicted that by the year 2000 the letters c, x, and q would be banished from the English alphabet.The expectation was that spelling would be phonetic and that those letters would be unnecessary. It was a perfectly logical prediction, but no more correct than the predictions that the use of jetpacks, teleportation, videophones, and smell-o-vision would be widespread. (Note: I make no predictions in this dictionary.) See also Smell-O-Vision, teleportation, and videophone.
C
The symbol for capacitance, or capacity. See capacitance.
The symbol for coulomb. See coulomb.
---
In the 1970s, Dennis Ritchie invented a new computer language called C that, as with UNIX in the operating system world, was designed to be nonconstraining and flexible. Though operating systems had typically been written in tight assembler language to extract the highest efficiency from their host machines, Ken Thompson and Dennis Ritchie realized that both hardware and compiler technology had advanced enough that a whole C operating system could be written. By 1978, the entire environment was ported to computers of varying types.
See Also: Programming Languages C, C++, Perl, and Java; Thompson, Ken; UNIX.
---
The designation for the primary hard disk in a Windows PC. The C: evolved from the early personal computers that used A: and B: for their two floppy drives. When the hard disk came along, it naturally became the C: drive. Letters starting with D: and up are used for additional hard disks and CD/DVD drives. Even though floppy drives no longer come with computers, A: and B: are still reserved, and there is the occasional need for a floppy drive to read an old disk. See logical drive.
C#
(C sharp) An object-oriented programming language that is based on C++ with elements from Visual Basic and Java. Like Java, C# provides automatic garbage collection, whereas traditional C and C++ do not. C# was created by Microsoft and also standardized by the European Computer Manufacturers Association (ECMA). Microsoft designed C# as its flagship programming language for the .NET environment. Why the Number Sign? Because it is similar to the sharp music notation symbol, the number sign (#) is used. See .NET Framework, J#, F# and C.
C++
C
(1) See coulomb.
(2) A high-level programming language developed at Bell Labs that is also able to manipulate the computer at a low level like assembly language. Developed in the 1970s, by the end of the 1980s, C became the language of choice for developing commercial software. C, and its object-oriented successor C++, are used to write a huge variety of applications and almost all operating systems. There are C/C++ compilers for all major operating systems and hardware platforms. C was standardized by ANSI (X3J11 committee) and ISO in 1989. C++ (C Plus Plus) Created by Bjarne Stroustrup and renamed from "C with Classes" to C++ in 1983, the language became popular because it combined traditional C with object-oriented programming (OOP). In contrast, Smalltalk (the first OOP language) and other OOP languages did not provide the familiar structures of conventional languages such as C and Pascal. See object-oriented programming, Visual C++, Objective-C, C# and Managed C++. Nothing But Functions C and C++ are written as a series of functions that call each other for processing. Even the body of the program is a function named "main." Functions are very flexible, allowing programmers to choose from the standard library that comes with the compiler, to use third party libraries or to develop their own. Its Origin C was developed to allow Unix to run on a variety of computers. After Bell Labs' Ken Thompson and Dennis Ritchie created Unix and got it running on several PDP computers, they wanted a way to easily port it to other machines without having to rewrite it from scratch. Thompson created the B language, which was a simpler version of the BCPL language, itself a version of CPL. Later, in order to improve B, Thompson and Ritchie created C. The following examples convert Fahrenheit to centigrade in C and C++. For another example of C code, see event loop. In C main() { float fahr; printf("Enter Fahrenheit: "); scanf("%f", &fahr); printf("Celsius is %f\n", (fahr-32)*5/9); } In C++ void main() { float fahr; cout << "Enter Fahrenheit: "; cin >> fahr; fahr = (((fahr-32)*5)/9); cout << "Celsius = " << fahr << endl; return 0; }
---