noun
The definition of a butler is the head servant in a household who tends to the needs of the household that employs him.

A man who answers the door and serves dinner to the homeowners and guests is an example of a butler.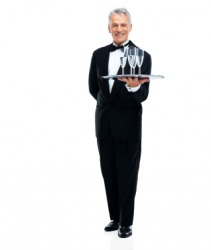 A butler serves champagne.
---
butler definition by Webster's New World
noun
a manservant, now usually the head servant of a household, in charge of wines, pantry, table silver, etc.
Origin: Middle English boteler ; from Old French bouteillier, cupbearer ; from bouteille, bottle
Butler, Benjamin Franklin 1818-93; U.S. politician & Union general in the Civil War

Butler, Joseph 1692-1752; Eng. theologian & bishop

Butler, Samuel 1612-80; Eng. satirical poet

Butler, Samuel 1835-1902; Eng. novelist
Webster's New World College Dictionary Copyright © 2010 by Wiley Publishing, Inc., Cleveland, Ohio. Used by arrangement with John Wiley & Sons, Inc.
---
butler definition by American Heritage Dictionary
noun
The head servant in a household who is usually in charge of food service, the care of silverware, and the deportment of the other servants.
Origin: Middle English, from Old French bouteillier, bottle bearer, from bouteille, botele, bottle; see bottle.
, Benjamin Franklin 1818-1893.
American army officer and politician. His harsh rule as military governor of New Orleans (May-December 1862) led to charges of corruption and Butler's removal. He later opened the impeachment proceedings against President Andrew Johnson (1868).
, Nicholas Murray 1862-1947.
American educator who advocated peace through education. He shared the 1931 Nobel Peace Prize.
, Samuel 1612-1680.
English poet remembered primarily for his three-part work Hudibras (1663-1678), a venomous mock-heroic satire on the Puritans.
, Samuel 1835-1902.
British writer best known for The Way of All Flesh (1903), a semiautobiographical novel satirizing family life in mid-Victorian England.