bus

bus.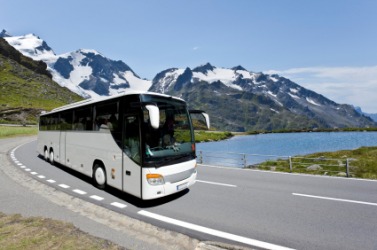 An autobus, or bus, on a highway.
noun
The definition of a bus is a large, long motor vehicle that carries a lot of passengers, usually on a regular route.

An example of a bus is the large vehicle with a number on it that goes down your street each day at specific times.
verb
To bus is to move people around from one place to another in a large vehicle.

An example of to bus is to take children to school.

To bus in a restaurant is defined as to clear the dishes and food from a table.

An example of to bus is for a worker to clear and clean a table before you sit down.
---
bus
noun
pl.

bus′es

or

bus′ses
a large, long motor vehicle designed to carry many passengers, usually along a regular route; omnibus

Slang

an automobile

Comput.

a communications pathway, as of wires, in a computer or computer system, that transmits and directs data, used for connecting internal components, networks, peripherals, etc.

Elec.

a heavy copper bar, strap, or other similar conductor that is not insulated, usually carries a large current, and connects many electrical circuits
Origin of bus
from (omni)bus
transitive verb
bused

or

bussed

,

bus′ing

or

bus′sing
to transport by bus; specif., to transport (children) by busing
in a restaurant, cafeteria, etc., to clear dirty dishes from: to bus tables
to go by bus
to do the work of a busboy
throw someone under the bus
Informal
to sacrifice or abandon (a comrade, associate, etc.) as to protect or benefit oneself
Bus
---
bus
noun
pl.
bus·es,
or
bus·ses
A long motor vehicle for carrying passengers, usually along a fixed route.
Informal A large or ungainly automobile.
A four-wheeled cart for carrying dishes in a restaurant.
Electricity A bus bar.
Computers A parallel circuit that connects the major components of a computer, allowing the transfer of electric impulses from one connected component to any other.
verb
bused, bus·ing, bus·es,
or
bussed
bus·sing
bus·ses
verb
transitive
To transport in a bus.
To transport (schoolchildren) by bus to schools outside their neighborhoods, especially as a means of achieving racial integration.

a. To carry or clear (dishes) in a restaurant.

b. To clear dishes from (a table).
verb
intransitive
To travel in a bus.
To work as a busboy.
Origin of bus
Short for
omnibus
V., intr., sense 2, back-formation from
busboy
bus.
---
bus

Verb
(third-person singular simple present busses or buses, present participle bussing or busing, simple past and past participle bussed or bused)
(automotive, transport) To transport via a motor bus.
(automotive, transport, chiefly US) To transport students to school, often to a more distant school for the purposes of achieving racial integration.
(intransitive, automotive, transport) To travel by bus.
(intransitive, US, food service) To work at clearing the remains of meals from tables or counters; to work as a busboy.

He's been bussing for minimum wage.
Usage notes
The Canadian Oxford Dictionary only presents the spellings buses, busing, and bused, implying that these are the predominant forms in Canada.
Origin
Shortening of omnibus, from Latin omnibus ("for everything/all"); dative plural of omnis ("all"). The electrical sense is derived from figurative application of the automotive sense.
Usage notes
This is the customary abbreviation of this term as used in case citations. See, e.g., The Bluebook: A Uniform System of Citation, Nineteenth Edition (2010), "Case Names and Institutional Authors in Citations", Table T6, p. 430-431.
---
bus - Computer Definition

A common electrical conductor shared by multiple related devices.There may be a number of buses in a given system, such as a switch or router.A single bus may consist of multiple (e.g., 16 or 32) conductors.
BUS
---
A shared digital pathway between resources and devices. In a computer, there are two major types: the system bus and peripheral bus. The system bus, also known as the "frontside bus" or "local bus," is the internal path from the CPU to memory and is split into address bus and data bus subsets. Addresses are sent over the address lines to signal a memory location, and data are transferred over the data lines to that location. System buses transfer data in parallel. In a 32-bit bus, data are sent over 32 wires simultaneously. A 64-bit bus uses 64 wires. Peripheral Buses The peripheral bus is the pathway to the peripheral devices such as a disk or printer. PCI and PCI Express are widely used peripheral buses. Devices connect to these parallel buses with cables to controller cards that plug into slots on the motherboard. Another common bus is USB, and devices are cabled to ports on the computer. USB is a serial bus, in which data travels over one wire. Other peripheral buses have been used, including ISA, EISA, Micro Channel, VL-bus, NuBus, TURBOchannel, VMEbus, MULTIBUS and STD bus. The CAN bus and FlexRay bus are automotive buses. Why Is It Called a Bus? Inaccurate naming. Electronic buses are shared pathways, in which all devices receive the same signals. They do not function like a passenger bus that makes prescribed stops, one after the other. The data transfer technology similar to a passenger bus is a ring network (see Token Ring). See bus network, software bus, serial bus, PCI, PCI Express, USB and AGP.
---