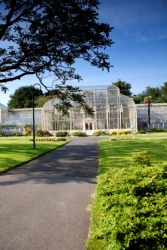 Botanical garden in Dublin.
---
botanical garden
a place where collections of plants and trees are kept for scientific study and exhibition
---
botanical garden
or botanic garden
noun
A place where plants are cultivated for scientific, educational, and ornamental purposes, often including a library, a herbarium, and greenhouses; an arboretum.
---
botanical garden
Noun
(plural botanical gardens)
A place where a variety of plants are grown, primarily for scientific or educational reasons, but are normally open to the public, and include ornamental plants from around the world.
---