bonding

bond·ing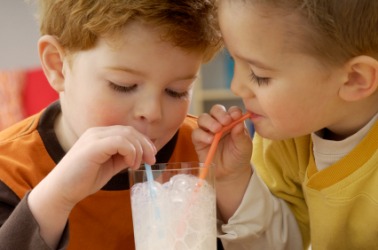 Two children bonding over a glass of milk.
noun
The definition of bonding is the creation of a close relationship with friends and family members.

An example of bonding is two people sharing an intense experience and becoming friends.
---
bonding
the development of a close relationship as between family members or friends

Dentistry

a procedure in which a synthetic resin is applied to a tooth surface to fill or cover flaws
---
bonding
noun
a. The formation of a close human relationship, as between friends: "He says he has rediscovered the comforts of male bonding in a Washington men's group" ( Marilyn Chase )

b. The emotional and physical attachment occurring between a parent or parent figure, especially a mother, and offspring, that usually begins at birth and is the basis for further emotional affiliation.

a. A dental technique in which a material such as plastic or porcelain is attached to the surface of a discolored or damaged tooth.

b. The technique of using adhesives to attach orthodontic brackets or other appliances to the teeth.
---
bonding

Verb
Present participle of bond.
Noun
(plural bondings)
The act by which something is bonded.
A method of aggregating multiple network interfaces on a computer into a single logical interface
---
bonding - Computer Definition

The process or method of permanently joining the metallic shields, screens, or armor of multiple wire and cable segments in order to establish electrical continuity between them, to a ground strap or wire that connects to a ground rod, and eventually to ground. Bonding serves to ensure that electrical noise will be conducted to ground, rather than coupling with and, therefore, interfering with the desired signal.
Synonymous with channel aggregation, dynamic bandwidth allocation, multirate ISDN, and Nx64. A feature of ISDN-compatible terminal adapters (TAs), PBXs, and routers that enables the system to dynamically allocate, or bond, multiple contiguous 64-kbps bearer (B) channels to serve an application that requires more than a narrowband channel. From the transmitter, through the network, and to the receiver, the narrowband channels are bonded and treated as a single superrate channel known as a high-speed (H) channel. As an example, a videoconference might require 128 kbps (2 channels) or 384 kbps (6 channels). Dial-up Internet access typically benefits from bonding two channels for a connection at 128 kbps. Also, multiple IP, ATM, or frame relay links can be joined to emulate a faster channel. See also B channel, H channel, ISDN, narrowband, PBX, router, superrate, and TA.
---
---
bonding - Investment & Finance Definition
The process of carefully checking an employee's background and then taking out insurance to protect the com-pany against theft or fraud losses caused by that employee. Financial firms or other companies whose employees handle cash are some of the firms that bond their employees.
---