noun
The definition of a belay is something to which a person or rope is secured.

A large rock on a mountain is an example of a belay.
verb
Belay means to secure a rope around a person, pin or cleat.

An example of belay is to wrap a rope around a rock to support a mountain climber.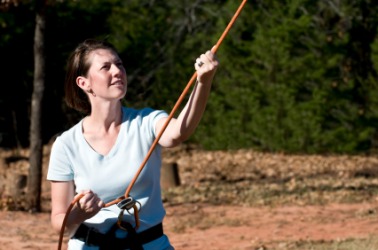 A woman belaying on a ropes course.
---
belay definition by Webster's New World
transitive verb
,
intransitive verb
belayed, belaying
to make (a rope) secure by winding around a belaying pin, cleat, piton, etc.; hold fast

Naut., Informal

to hold; stop: belay there!
to cancel: belay the last order

to secure (a person, as a mountain climber, or thing) by a rope
Origin: Middle English bileggen ; from Old English belecgan, to make fast ; from be-, be- plush lecgan, lay
noun
action, method, or place of securing a hold for a rope in mountain climbing
Webster's New World College Dictionary Copyright © 2010 by Wiley Publishing, Inc., Cleveland, Ohio. Used by arrangement with John Wiley & Sons, Inc.
---
belay definition by American Heritage Dictionary
verb
be·layed
,
be·lay·ing
,
be·lays
verb
, transitive
Nautical To secure or make fast (a rope, for example) by winding on a cleat or pin.
To secure (a mountain climber, for example) at the end of a length of rope.
To cause to stop.
verb
, intransitive
To be made secure.
Used in the imperative as an order to stop: Belay there!
noun
The securing of a rope on a rock or other projection during mountain climbing.
An object, such as a rock, to which a mountain climber's rope can be secured.
Origin: Middle English bileggen, to surround, from Old English belecgan; see legh- in Indo-European roots.