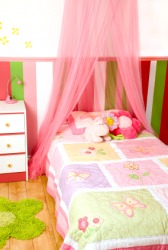 A childs bedchamber, or bedroom.
noun
The definition of a bedroom is a room used for sleeping.

A room with a bed and dresser in it is an example of a bedroom.
---
bedroom
a room with a bed, for sleeping in
having to do with sex or sexual affairs: a bedroom farce
housing those who spend their days at work in a nearby metropolis: bedroom suburbs
---
bedroom
noun
A room in which to sleep.
adjective
Sexually suggestive: a bedroom comedy; bedroom eyes.
Relating to or inhabited by commuters: bedroom suburbs.
---
bedroom

---