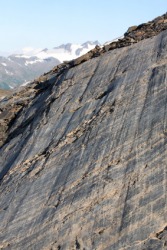 Bedrock exposed by a glacier.
noun
The definition of bedrock means the layer of solid rock below the soil.

Unbroken solid rock found at the bottom during an archaeological dig is an example of bedrock.
---
bedrock
solid rock beneath the soil and superficial rock
a secure foundation
the very bottom
basic principles or facts
---
bedrock
noun
The solid rock that underlies loose material, such as soil, sand, clay, or gravel.

a. The very basis; the foundation: Ownership of land is the bedrock of democracy.

b. The lowest point: personal finances that were at bedrock.
---
bedrock

Usage notes
In mountainous regions, bedrock can be seen at the surface. However, these occurrences are more properly called outcrops. In construction and engineering, it is often desired to place foundations on bedrock in order to improve the stability of a structure.
Proper noun
Name of the fictional town in The Flintstones
---