noun
An artist is defined as a person who creates paintings, sculpture, pieces of writing, music, dance or a variety of other types of creative products.

Some examples of famous artists are Van Gogh, Picasso, and Michelangelo.

The definition of an artist is someone who is skilled at what he does or at a particular task.

A master furniture maker who makes you a beautiful cabinet is an example of an artist.
A massage therapist who gives you a great massage is an artist.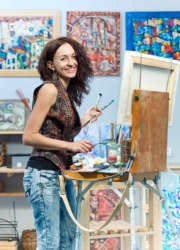 An artist at work in her studio.
---
artist definition by Webster's New World
noun
a person who works in, or is skilled in the techniques of, any of the fine arts, esp. in painting, drawing, sculpture, etc.
a person who does anything very well, with imagination and a feeling for form, effect, etc.
a professional person in any of the performing arts
Origin: Midieval Latin artista, craftsman, artisan ; from Classical Latin ars, art
Webster's New World College Dictionary Copyright © 2010 by Wiley Publishing, Inc., Cleveland, Ohio. Used by arrangement with John Wiley & Sons, Inc.
---
artist definition by American Heritage Dictionary
noun
One, such as a painter, sculptor, or writer, who is able by virtue of imagination and talent or skill to create works of aesthetic value, especially in the fine arts.
A person whose work shows exceptional creative ability or skill: You are an artist in the kitchen.
One, such as an actor or singer, who works in the performing arts.
One who is adept at an activity, especially one involving trickery or deceit: a con artist.
Origin: French artiste, from Old French, lettered person, from Medieval Latin artista, from Latin ars, art-, art; see ar- in Indo-European roots.