scientist

sci·en·tist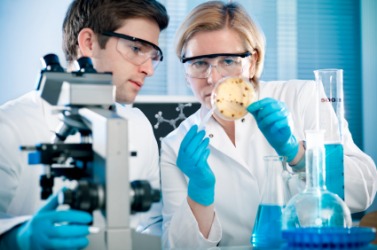 Two scientist working in their laboratory.
noun
The definition of a scientist is a person who is an expert in one of the natural or physical sciences.

An example of a scientist was Marie Curie.
An example of a famous scientist from Vietnam is Tuan Vo-Dinh who created a variety of methods that allow for the discovery of diseases in the body without having to use biopsies.
An example of a famous Hispanic scientist was Carlos Finlay, a lead researcher of yellow fever who discovered that the disease was carried by mosquitoes.
---
scientist
a specialist in science; esp., a person whose profession is investigating in one of the natural sciences, as biology, chemistry, physics, etc.
[S-] Christian Scientist
---
scientist
noun
A person who is engaged in and has expert knowledge of a science, especially a biological or physical science.
---
scientist

Noun
(plural scientists)
One whose activities make use of the scientific method to answer questions regarding the measurable universe. A scientist may be involved in original research, or make use of the results of the research of others.
---