areca
[ar′i kə, er′-; ə rē′kə]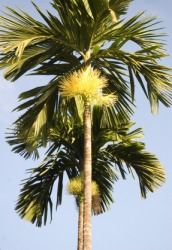 A flowering areca plant.
---
areca
noun
any of a genus (Areca) of palm trees, native to Asia and Australia, with a smooth, slender trunk and feathery compound leaves; esp., the betel palm
Origin of areca
Modern Latin ; from Port; probably ; from Malayalam
adekka
---
areca
noun
See betel palm.
Any of various other palms in the genera Areca and Dypsis.
Origin of areca
Portuguese, from Malayalam
a&tlowdot;ekka
,
areca nut
, from Tamil
a&tlowdot;aikkāy
.
---
areca
---