noun
The definition of alabaster is a hard mineral, white in color, smooth to the touch and thin enough to see through.

An example of something alabaster are medieval church windows in Italy, which used this hard calcite by cutting it into thin sheets to create beautiful windows.
An example of something alabaster are creamy white busts carved from the stone.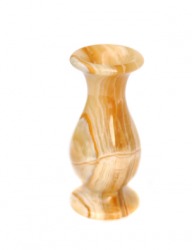 A vase made from alabaster.
---
alabaster definition by Webster's New World
noun
a translucent, whitish, fine-grained variety of gypsum, used for statues, vases, etc.
a variety of calcite found esp. in stalactites and stalagmites: it is sometimes streaked or mottled like marble
Origin: Middle English ; from Old French alabastre ; from Classical Latin alabaster ; from Classical Greek alabastros, earlier alabastos, vase for perfumes (often made of alabaster), probably ; from Egyptian an unverified form 'a-labaste, vessel of (the goddess) Bast
adjective
of or like alabaster; esp., smooth and white
Webster's New World College Dictionary Copyright © 2010 by Wiley Publishing, Inc., Cleveland, Ohio. Used by arrangement with John Wiley & Sons, Inc.
---
alabaster definition by American Heritage Dictionary
noun
A dense translucent, white or tinted fine-grained gypsum.
A variety of hard calcite, translucent and sometimes banded.
A pale yellowish pink to yellowish gray.
Origin: Middle English alabastre, from Old French, from Latin alabaster, from Greek alabastros, alabastos, possibly of Egyptian origin.