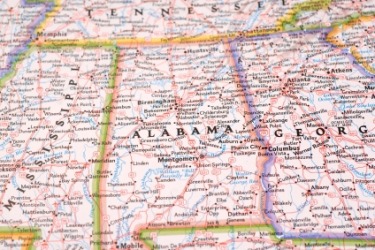 A map showing the state of Alabama.
---
Alabama
Southern state of the SE U.S., on the Gulf of Mexico: admitted, 1819; 50,744 sq mi (131,426 sq km); pop. 4,447,000; cap. Montgomery: abbrev. AL or Ala

river flowing through central and SW Ala., joining the Tombigbee to form the Mobile river: 315 mi (607 km)
Origin of Alabama
; from French
Alibamon
; from name of a Muskogean tribe ; from uncertain or unknown; perhaps
---
Alabama
Abbr. AL or Ala.
A state of the southeast United States. It was admitted as the 22nd state in 1819. Alabama was first explored by the Spanish, and the southern section was claimed by the United States as part of the Louisiana Purchase (1803). Montgomery is the capital and Birmingham the largest city.
Related Forms:
Al′a·ba′mi·an , Al′a·bam′an

adjective

& n.
noun
pl.
Alabama
or
Al·a·bam·as
A member of a tribe of the Creek confederacy formerly inhabiting southern Alabama and now located in eastern Texas.
The Muskogean language of the Alabama.
Origin of Alabama
Alabama
Alba·mo
,
Alabama person
.
---
Alabama
Origin
From Alabama Albaamaha ("the name of a people formerly native to the area")
---