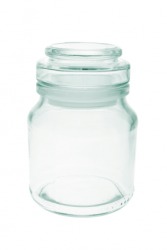 There are zero items in this jar.
adjective
The definition of zero is having no measurable growth or quantity.

A soccer team with no points is an example of a team with a zero score.
noun
Zero is a numerical figure which is defined as the lack of any quantity.

An example of zero is no cookies left in the jar.
---
zero
noun
pl.

-·ros

or

-·roes
the symbol or numeral 0, representing the complete absence of any quantity or magnitude
the point, marked 0, from which positive or negative quantities are reckoned on a graduated scale, as on a thermometer; specif.,

on a centigrade thermometer, the freezing point of water
on a Fahrenheit thermometer, a point 32° below the freezing point of water

a temperature that causes a thermometer to register zero
the point intermediate between positive and negative quantities
nothing
the lowest point: his chances of success sank to zero

Gunnery

a sight setting for a range, allowing for both elevation and windage
Origin of zero
French
zéro
from Italian
zero
from Arabic
?ifr,
cipher
of or at zero
without measurable value

Informal

not any; no: a snack having zero cholesterol

Aeron.

designating or of a ceiling that is at or near the ground, specif. one at a height of fifty feet or lower
designating or of visibility along the ground regarded as within the limit of a few feet

Linguis.

designating a hypothetical inflectional form: the plural of deer is said to be formed by the addition of a zero allomorph of the plural morpheme
transitive verb
-·roed

,

-·ro·ing
to adjust (an instrument, etc.) to a zero point or to an arbitrary point from which all positive and negative readings are to be measured
zero in
to adjust the zero of (a gun)
to aim (a gun) or concentrate (firepower) directly at or on (a target)
zero in on
to adjust gunfire so as to be aiming directly at (a target)
to concentrate attention on; focus on
---
zero
noun
pl.
ze·ros,
or
ze·roes
The numerical symbol 0; a cipher.
Mathematics

a. The identity element for addition.

b. A cardinal number indicating the absence of any or all units under consideration.

c. An ordinal number indicating an initial point or origin.

d. An argument at which the value of a function vanishes.

The temperature indicated by the numeral 0 on a thermometer.
A sight setting that enables a firearm to shoot on target.
Informal One having no influence or importance; a nonentity: a manager who was a total zero.
The lowest point: His prospects were approaching zero.
Informal Nothing; nil: Today I accomplished zero.
adjective
Of, relating to, or being zero.

a. Having no measurable or otherwise determinable value.

b. Informal Not any; no: "The town has … practically no opportunities for amusement, zero culture" ( Robert M. Adams )

Meteorology

a. Designating a ceiling not more than 16 meters (52 feet) high.

b. Limited in horizontal visibility to no more than 55 meters (180 feet).

Linguistics Of or relating to a morpheme that is expected by an established, regular paradigm but has no spoken or written form. Moose has a zero plural; that is, its plural is moose.
transitive verb
ze·roed, ze·ro·ing, ze·roes
To adjust (an instrument or a device) to zero value.
Phrasal Verbs:
zero in
a. To aim or concentrate firepower on an exact target location.
b. To adjust the aim or sight of by repeated firings.
To converge intently; close in:
The children zeroed in on the display of toys in the store window.
zero out
To reduce to zero.To eliminate (a budget or budget item) by cutting off funding.
Origin of zero
Italian
from alteration of
Medieval Latin
zephirum
from
Arabic
&slowdot;ifr
nothing, cipher
; see
cipher
.
---
zero

---