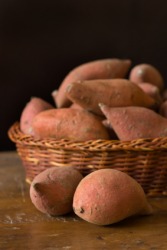 Yams on the table.
---
yam definition by Webster's New World
noun
the edible, starchy, tuberous root of any of several tropical climbing plants (genus Dioscorea) of the yam family, widely grown in the tropics for food
any of these plants

any of various other similar plants, as the barbasco
☆ a moist, orange-colored variety of sweet potato

Scot.

potato (sense )
Origin: Portuguese inhame, probably ; from West African native name
adjective
designating a family (Dioscoreaceae, order Liliales), of climbing, chiefly tropical monocotyledonous plants, including the barbasco
Webster's New World College Dictionary Copyright © 2010 by Wiley Publishing, Inc., Cleveland, Ohio. Used by arrangement with John Wiley & Sons, Inc.
---
yam definition by American Heritage Dictionary
noun
Any of numerous chiefly tropical vines of the genus Dioscorea, many of which have edible tuberous roots.
The starchy root of any of these plants, used in the tropics as food.
Chiefly Southern U.S. See sweet potato. See Regional Note at goober.
Origin: Portuguese inhame or obsolete Spanish igname, iñame, both from Portuguese and English Creole nyam, to eat, of West African origin; Wolof ñam, food, to eat, or Bambara ñambu, manioc.