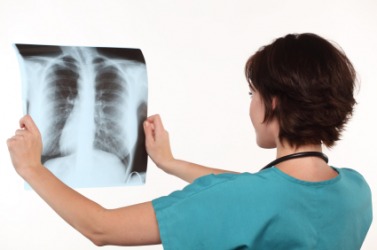 A doctor views an X-ray of a patient's chest.
noun
The definition of an X-ray is a picture taken of the inside of something using high energy electromagnetic radiation with short wavelengths that can pass through items.

A picture that the doctor takes of your insides to see if you have any broken bones is an example of an X-ray.
verb
To X-ray is also the act of examining, treating or photographing something using electromagnetic radiation.

An example of to X-ray is when the dentist uses an X-ray machine to find a cavity in a tooth.
---
X-ray
a band of electromagnetic radiation with wavelengths between gamma rays and ultraviolet radiation (c. .005 to c. 5 nanometers)
a stream of electromagnetic waves within this band: X-rays are capable of penetrating opaque or solid substances, ionizing gases, and, by extended exposure, destroying organic tissue: they are widely used in medicine for diagnosis and treatment of certain organic disorders

a photograph made by means of X-rays
Origin of X-ray
translated, translation of German
x-strahl
( from
x,
algebraic symbol for an unknown quantity +
strahl
, ray): so named by W. C. Roentgen (1895), because of its unknown character
of, by, or having to do with X-rays
to examine, treat, or photograph with X-rays
Also written
X ray
,
x-ray
, or
x ray
---
x-ray
or X-ray
noun
or
x ray
or
X ray
a. A photon of electromagnetic radiation of very short wavelength, ranging from about 10 down to 0.01 nanometers, and very high energy, ranging from about 100 up to 100,000 electron volts.

b. often x-rays or X-rays A narrow beam of such photons. X-rays are used for their penetrating power in radiography, radiology, radiotherapy, and scientific research. Also called roentgen ray .

a. A photograph taken with x-rays.

b. The act or process of taking such a photograph: Did the patient move during the x-ray?
transitive verb
x-rayed, x-ray·ing, x-rays,
or
X-rayed
X-ray·ing
X-rays
To irradiate with x-rays.
To photograph with x-rays.
Origin of x-ray
From translation of
obsolete German
X-Strahlen
x-rays
(
coined by their discoverer Wilhelm Conrad Roentgen
)
x
x, unknown factor (since x-rays were a previously unknown form of radiation)
Strahlen
pl. of
Strahle
ray
x-ray
of an adult human hand
---
x-ray

Noun
(plural x-rays)
Alternative spelling of X-ray.
---