adjective
The definition of waterfront is land or a dock area that is located directly on a body of water such as a river, lake or ocean.

A house directly on the beach of the Atlantic Ocean is an example of a waterfront house.
noun
Waterfront is a location or part of a city or town that is directly on a body of water.

The beaches and boardwalks on the Atlantic Ocean are an example of the waterfront.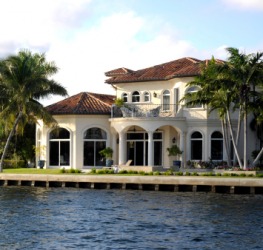 A waterfront house.
---
waterfront
☆
noun
land at the edge of a stream, harbor, etc.
the wharf or dock area of a city
---
waterfront
noun
Land abutting a body of water.
The part of a town or city that abuts water, especially a district of wharves where ships dock.
---
waterfront
---