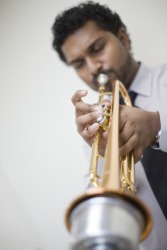 This trumpet could make a wah-wah sound.
noun
The definition of a wah-wah is an instrumental sound that is similar to a baby's cry.

An example of a wah-wah is a sound made by opening and closing a trumpet's bell with a plunger mute.
---
wah-wah
Jazz

an instrumental effect somewhat like that of the sound of a baby crying, produced by closing and opening the bell of a trumpet, trombone, etc. with a plunger mute held in the hand
a similar effect created by an electronic device controlled by a foot pedal, that can be used with any musical instrument
Origin of wah-wah
echoic reduplicated, reduplication
---
wah-wah
also wa-wa
noun
A wavering sound resembling the vowels of human speech, produced by alternately covering and uncovering the bell of a trumpet or trombone with a mute.
A similar sound produced by means of an electronic attachment, as on an electric guitar, operated by a foot pedal.
Origin of wah-wah
Imitative
Related Forms:
---
wah-wah

Adjective
(not comparable)
---