violin
vi·o·lin
designating the modern family of stringed instruments played with a bow, characterized by four strings tuned in fifths, a lack of frets, a somewhat rounded back, and f-shaped sound holes
the smallest and highest-pitched instrument of this family, held horizontally under the chin, resting against the collarbone; fiddle
Origin of violin
Italian
violino,
diminutive of
viola,
viola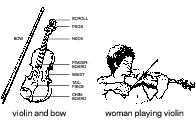 ---
violin
noun
A stringed instrument played with a bow, having four strings tuned at intervals of a fifth, an unfretted fingerboard, and a shallower body than the viol and capable of great flexibility in range, tone, and dynamics.
Origin of violin
Italian
violino
diminutive of
viola
viola
; see
viola
1
.
Related Forms:
vi′o·lin·is′tic

adjective
---
violin

Noun
(plural violins)
(music) A musical four-string instrument, generally played with a bow or by plucking the string. Pitch is set by pressing the strings at the appropriate place with the fingers.
(music) A violinist.

The first violin often plays the lead melody lines in a string quartet.
---