fiddle

fid·dle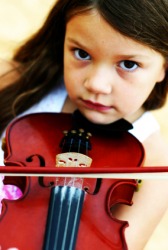 A little girl playing a fiddle.
noun
The definition of a fiddle is an stringed musical instrument that is played with a bow, such as a violin.

An example of a fiddle is what the cat plays in the nursery rhyme "Hey Diddle Diddle."
verb
To fiddle is defined as to play a violin, or to spend time doing something without a goal in mind.

An example of to fiddle is to play the violin in a concert.
An example of to fiddle is to pick up and look at each piece of jewelry in your jewelry box.
---
fiddle
Informal

any stringed instrument played with a bow, esp. the violin

Slang

a petty swindle

Naut.

a frame or railing on a ship's table to keep dishes, etc. from sliding off in rough weather
Origin of fiddle
Middle English
fithele
from Old English from Vulgar Latin
vitula
from Classical Latin
vitulari
, to rejoice:
vi-
( from Indo-European an unverified form
woi-
, an unverified form
wi-
, outcry from source Old English
wi
, Classical Greek
ia
) + uncertain or unknown; perhaps base of
tollere
, to raise, exalt
transitive verb
-·dled

,

-·dling
Informal

to play (a tune) on a fiddle

Slang

to swindle in a petty way
Informal

to play a fiddle
to play or tinker (with), esp. in a nervous way
fiddle around
Informal
to pass time aimlessly
fit as a fiddle
in excellent health; physically fit
---
fiddle
noun
A violin, especially one used to play folk or country music.
Nautical A guardrail used on a table during rough weather to prevent things from slipping off.
Informal Nonsensical, trifling matters: "There are things that are important / beyond all this fiddle" ( Marianne Moore )
Chiefly British An instance of cheating or swindling; a fraud.
verb
fid·dled, fid·dling, fid·dles
verb
intransitive
To play a fiddle.
To touch or handle something in a nervous way: fiddled with the collar of his shirt as he spoke.
To make unskilled efforts at repairing or improving: fiddled with the broken toaster.
To meddle or tamper: a reporter who fiddled with the facts.
Chiefly British To commit a fraud, especially to steal from one's employer.
verb
transitive
To play (a tune) on a fiddle.
Chiefly British To alter or falsify for dishonest gain: fiddled the figures in the report.
Phrasal Verbs:
fiddle around
To act foolishly, playfully, or without a clear sense of purpose:
Quit fiddling around and get to work!
fiddle away
To waste or squander:
fiddled away the morning browsing the internet.
Origin of fiddle
Middle English
fidle
from
Old English
fithele
Related Forms:
---
fiddle

Noun
(plural fiddles)
(music) Any of various bowed string instruments, often used to refer to a violin when played in any of various traditional styles, as opposed to classical violin.

When I play it like this, it's a fiddle; when I play it like that, it's a violin.

An adjustment intended to cover up a basic flaw.

That parameter setting is just a fiddle to make the lighting look right.

(nautical) On board a ship or boat, a rail or batten around the edge of a table or stove to prevent objects falling off at sea. (Also fiddle rail)
Verb
(third-person singular simple present fiddles, present participle fiddling, simple past and past participle fiddled)
To adjust in order to cover a basic flaw or fraud etc.

I needed to fiddle the lighting parameters to get the image to look right.
Fred was sacked when the auditors caught him fiddling the books.
Origin
From Middle English fithele, from Old English fiðele. Cognate with Old High German fidula (German Fiedel), Old Norse fiðla (Icelandic fiðla, Danish fiddel, Norwegian fela), Middle Dutch vedele (Dutch veel, vedel).
The ultimate source of the word is unknown. Some argue that the similarity in Germanic variations can be explained by adoption and subsequent corruption of a contemporary Latin word, vitula or vidula. This is known to have occurred with the Romance languages eg. viol or viola in French, Portuguese, Italian and Spanish. Others argue that the Germanic words have a uniquely Teutonic origin, but no earlier forms have been found.
---