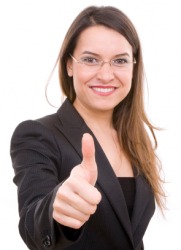 A woman gives the thumbs-up sign.
noun
Thumbs-up is a gesture showing an expression of approval.

When your boss gives you the go-ahead to continue working on a project, this is an example of a time when your boss gives you the thumbs-up to work on a project.
---
thumbs-up
noun
An act, instance, or sign of approval.
---
thumbs-up

Noun
(plural thumbs up)
A gesture signifying approval or okay; a thumb pointing up out of a fist.

He smiled and gave a big thumbs up.

(idiomatic) An approval or okay.

We got the thumbs-up to go ahead with the project.
Origin
With reference to the signal of approval or disapproval used by spectators at a Roman amphitheatre, but sense has been reversed.
---