sightseeing
sight·see·ing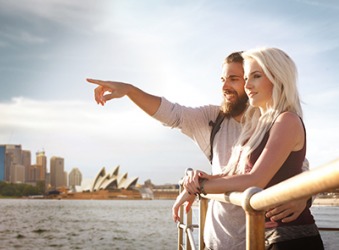 The couple traveling through Australia took a sightseeing cruise in Sydney Harbor.
noun
Sightseeing is the activity of going to a new place and checking out all of the attractions and cool features of that place.

Walking around Atlantic City checking out the casinos and boardwalk is an example of sightseeing.
---
sightseeing
the act of visiting places and things of interest, for pleasure, education, etc.
for or engaged in seeing sights
---
sightseeing
noun
The act or pastime of visiting sights of interest.
adjective
Used or engaged in sightseeing: a sightseeing bus; a sightseeing tour.
---
sightseeing

Noun
(uncountable)
The practice of going out looking at things; tourism.

Sightseeing is a frequent reason to visit San Francisco.
---