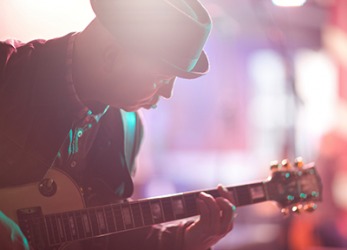 The musician's set list segues perfectly from slow to more upbeat songs during his performance.
verb
Segue is defined as to transition from one thing to another without a break.

An example of to segue is to move from playing one song into another.
---
segue
intransitive verb
-·gued·

,

-·gue·ing
to continue without break (to or into the next part)
Origin of segue
It, 3d person; personal (grammar) singular , present tense indicative , of
seguire
, to follow from Vulgar Latin
sequere
, for Classical Latin
sequi
: see sequent
an immediate transition from one part to another, as in music
---
segue
intransitive verb
se·gued, se·gue·ing, se·gues
Music To make a transition directly from one section or theme to another.
To move smoothly and unhesitatingly from one state, condition, situation, or element to another: "Daylight segued into dusk" ( Susan Dworski )
noun
An act or instance of segueing.
Origin of segue
From
Italian
there follows
third-person sing. present tense of
seguire
to follow
from
Vulgar Latin
sequere
from
Latin
sequī
; see
sekw-
1
in Indo-European roots.
---
segue

Verb
(third-person singular simple present segues, present participle segueing, simple past and past participle segued)
To move smoothly from one state or subject to another.

I can tell she's going to segue from our conversation about school to the topic of marriage.

(music) To make a smooth transition from one theme to another.

Beethoven's symphonies effortlessly segue from one theme to the next.
Noun
(plural segues)
An instance of segueing, a transition.
---