Segway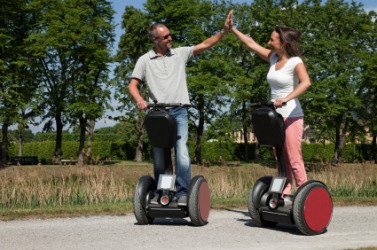 Two people riding Segways.
noun
Segway is the trademark for a two-wheeled, one-person, self-balancing electric vehicle.

An example of a Segway is what Gob from the TV show Arrested Development uses for transportation.
---
segway

Verb
(third-person singular simple present segways, present participle segwaying, simple past and past participle segwayed)
Common misspelling of segue.
Alternative form of Segway.; to travel by Segway.
---