noun
The definition of a scythe is a tool on a handle with a long, sharp, curved metal piece used for cutting grains.

An example of a scythe is the tool held by the grim reaper.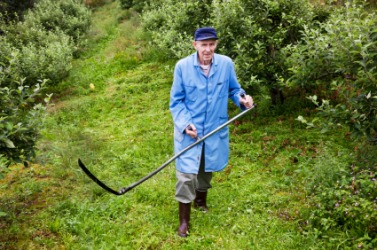 A farmer uses a scythe to cut grass.
---
scythe definition by Webster's New World
noun
a tool with a long, single-edged blade set at an angle on a long, curved handle, used in cutting long grass, grain, etc. by hand
Origin: altered (infl. by Classical Latin scindere, to cut) ; from Middle English sithe ; from Old English sithe, sigthe, scythe, akin to Low German seged ; from Indo-European base an unverified form sek-, to cut from source saw, Classical Latin secare, to cut
Webster's New World College Dictionary Copyright © 2010 by Wiley Publishing, Inc., Cleveland, Ohio. Used by arrangement with John Wiley & Sons, Inc.
---
scythe definition by American Heritage Dictionary
noun
An implement consisting of a long, curved single-edged blade with a long bent handle, used for mowing or reaping.
transitive verb
scythed
scythed
,
scyth·ing
,
scythes
To cut with or as if with a scythe.
Origin: Middle English sithe, from Old English sīthe, sickle; see sek- in Indo-European roots.