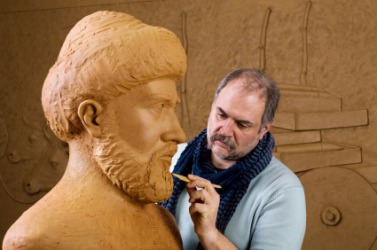 A sculptor creates a bust with clay.
noun
The definition of a sculptor is an artist who takes a material and molds or carves it to make a finished product.

An artist who takes a lump of marble and carves it into a statute is an example of a sculptor.
---
sculptor
a person, esp. an artist, who makes sculptures
[S-] a S constellation between Cetus and Phoenix containing the S galactic pole
Origin of sculptor
Classical Latin from
sculpere
, to carve in stone, akin to
scalpere
, to cut: see scalpel
---
sculptor
noun
One who produces sculptural artwork.
One who shapes, molds, or fashions especially with artistry or precision.
Sculptor A constellation in the Southern Hemisphere near Cetus and Phoenix. Also called Sculptor's Workshop .
Origin of sculptor
Latin
from
sculpere
to carve
; see
sculpture
.
---
sculptor

---