scripture
scrip·ture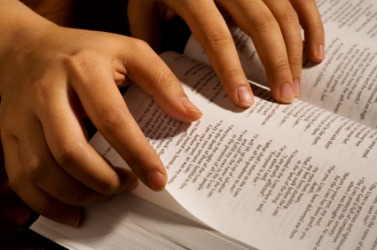 A person reading scripture.
noun
Scripture is the sacred writings of a religion.

For Christians, the Bible and the words of Christ are an example of scripture.
---
scripture
Obs.

anything written
a Bible passage

any sacred writing or books
any writing regarded as authoritative and inviolable

the sacred writings of the Jews, identical with the Old Testament of the Christians
the Christian Bible; Old and New Testaments
Origin of scripture
Middle English ; from Classical Latin
scriptura
, a writing, in LL(Ec), a Scripture, passage of Scripture ; from
scriptus
: see script
---
scripture
noun
a. A sacred writing or book.

b. A passage from such a writing or book.

often Scripture or Scriptures The writings collected as the Bible.
A statement regarded as authoritative.
Origin of scripture
Middle English, from Late Latin
scr&imacron;pt&umacron;ra
, from Latin,
act of writing
, from
scr&imacron;ptus
, past participle of
scr&imacron;bere
,
to write
; see
skr&imacron;bh-
in Indo-European roots.
---
scripture
Origin
From Latin scrÄ«ptÅ«ra ("a writing, scripture"), from scrÄ«ptum, the supine of scrÄ«bō ("I write").
---