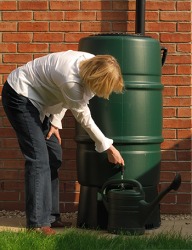 Linda collects rainwater runoff into a barrel for her garden.
noun
The definition of a runoff is an additional election held when a first election produces a tie or otherwise does not result in a winner.

When a first election ties and then a second election is held between the two parties who tied in the original race, this is an example of a runoff.

Runoff is defined as excess water draining away from land or buildings.

The overflow of water that drains off of your driveway is an example of runoff.
---
runoff
something that runs off, as rain in excess of the amount absorbed by the ground
a deciding, final race, election, etc. as in case of a tie
---
runoff
noun
a. Water, such as rainfall, and any sediments or other substances carried with it, that is not absorbed by the soil but instead flows away over the ground.

b. The overflow of fluid from a container.

An extra election or competition held to decide a winner following an earlier, inconclusive election or competition.
---
runoff

Noun
(countable and uncountable, plural runoffs)
That portion of precipitation or irrigation on an area which does not infiltrate or evaporate, but instead is discharged from the area.
Dissolved chemicals, etc, included in such water.

The runoff of nitrates is poisoning the lake.

A second or further round of an indecisive election, after other candidates (often all but the last two) have been eliminated,

There will now be a runoff as neither front runner received more than 50% of the vote.
---