romanticism
ro·man·ti·cism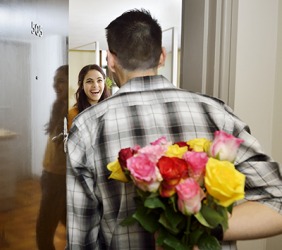 Ralph's lavish demonstration of romanticism was a little awkward for Makayla because she wasn't very interested in him.
adjective
The definition of romanticism is a state of being romantic or affectionate in a sentimental way, or an 18th century movement in the arts and literature that emphasized nature, imagination, emotion and the individual.

When someone is always giving his lover flowers, cards and poems he wrote, this is an example of romanticism.
An 18th century movement in art during which romantic poets such as Thomas Chatterton produced poetry is an example of romanticism.
---
romanticism
romantic spirit, outlook, tendency, etc.
[usuallyR-] Romantic Movement
[alsoR-] the spirit, attitudes, style, etc. of, or adherence to, the Romantic Movement or a similar movement
---
romanticism
noun
often Romanticism An artistic and intellectual movement originating in Europe in the late 1700s and characterized by a heightened interest in nature, emphasis on the individual's expression of emotion and imagination, departure from the attitudes and forms of classicism, and rebellion against established social rules and conventions.
Romantic quality or spirit in thought, expression, or action.
Related Forms:
---
romanticism

Noun
(plural romanticisms)
A romantic quality, spirit or action
Proper noun
18th Century artistic and intellectual movement which stressed emotion, freedom and individual imagination.
---