respectively

re·spec·tive·ly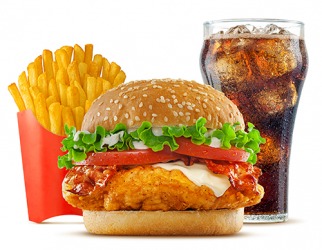 The french fries, chicken sandwich and cola cost $3, $5 and $2 respectively.
adverb
Respectively is defined as in the order given.

An example of respectively is what one might say instead of "in that order" in "Alice is 5 and James is 7, in that order."
---
respectively
in regard to each of two or more, in the order named: the first and second prizes went to Mary and George, respectively
---
respectively
adverb
Singly in the order designated or mentioned: The bookcase and the table are 5 feet and 3 feet high, respectively.
---
respectively

Adverb
(comparative more respectively, superlative most respectively)
In a relative manner; often used when comparing lists, where the term denotes that the items in the lists correspond to each other in the order they are given.

Serena Williams and Roger Federer won the women's and men's singles titles, respectively, at the 2010 Australian Open.
---