realist

re·al·ist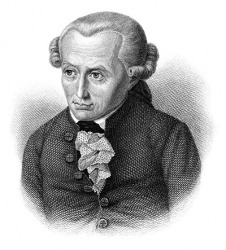 German philosopher Immaneul Kant was a realist.
noun
The definition of a realist is a person who can look at things as they are and deal with it in a practical manner, or an artist or philosopher who believes in showing and discussing realism rather than visionary thoughts.

A person who knows that she needs to make improvements in her life, who can recognize the situation and her problems and who makes plans to deal with them, is an example of a realist.
Immaneul Kant, a German philosopher famous for the idea of the moral obligation which he called the "Categorical Imperative", is an example of a realist.
---
realist
a person concerned with real things and practical matters rather than those that are imaginary or visionary
a believer in or advocate of realism
an artist or writer whose work is characterized by realism
---
realist
noun
One who is inclined to literal truth and pragmatism.
A practitioner of artistic or philosophic realism.
---
realist

Noun
(plural realists)
(philosophy) An advocate of realism; one who believes that matter, objects etc. have real existence beyond our perception of them.
One who believes in seeing things the way they really are, as opposed to how they would like them to be.
(art, literature) An adherent of the realism movement; an artist who seeks to portray real everyday life accurately.
Anagrams
A-lister
Raelist
railest
retails
saltier
---