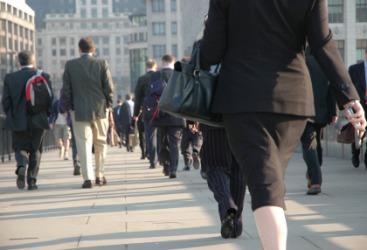 Members of the rat race.
noun
Rat race is slang to describe the competitive struggle in the working world.

An example of the rat race is working a 60 hour a week job just to be able to buy a fancy house to impress your friends.
---
rat race
Informal
a mad scramble or intense competitive struggle, as in the business world
---
rat race
noun
Informal
A difficult, tiring, often competitive activity or routine.
---
rat-race

Verb
(third-person singular simple present rat-races, present participle rat-racing, simple past and past participle rat-raced)
To rat run, that is, to drive on side streets, often at high speeds, to avoid traffic.
---