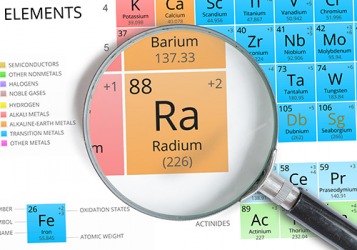 Radon comes from Radium
noun
The definition of radon is a gas that comes from the element radium.

Facts About Radon

Radon is the second leading cause of lung cancer in the United States.
It is generated from the radioactive decay of uranium.
The half-life of radium is about 3.5 days and, since radon is produced when it decays, large amounts of radon can build up rapidly.
Radon is the heaviest inert gas that naturally occurs.
In every square mile of surface soil, down to the depth of six inches, one gram of radium occurs naturally.
The seven ways that radon seeps into your structure include cracks in solid floors, construction joints, gaps in suspended floors, gaps around service pipe feedholes, cracks in walls, water supply or cavities inside walls.

An example of radon is when radon gas seeps into a building through the floors, causing health concerns including lung cancer.
---
radon
a radioactive, gaseous chemical element, one of the noble gases, formed, together with alpha rays, as a first product in the atomic disintegration of radium: symbol, Rn; at. no. 86
Origin of radon
rad(ium) + -on
---
radon
noun
Rn
A colorless, radioactive, inert gaseous element that is formed by the radioactive decay of radium and is used to produce neutrons for research. Its most stable isotope is Rn-222 with a half-life of 3.82 days. A natural source of radiation found in most soils and groundwater, radon poses a serious health threat if inhaled. Atomic number 86; melting point −71°C; boiling point −61.7°C; density of gas 9.73 grams per liter; specific gravity (solid) 4. See
Periodic Table
.
Origin of radon
rad(ium)
-on
2
---
radon

Noun
(uncountable)
A radioactive chemical element (symbol Rn, formerly Ro) with atomic number 86, one of the noble gases.
---