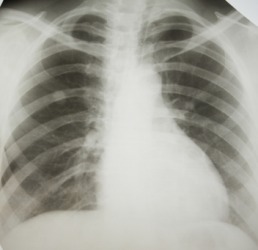 An x-ray of a person with lung cancer.
Lung cancer is the uncontrolled growth of cells in lung tissue. Of all cancer deaths in the world, lung cancer is the leader.
Lung Cancer Basic Facts
The two types are small cell lung cancer and non-small lung cancer. Sometimes it consists of both kinds.
Twenty percent of all the lung cancers are small cell, with the majority being non-small cell.
If cancer started somewhere else and made its way to the lungs, it is called "metastatic cancer to the lung."
Carcinomas of the lung account for most lung cancers.
Small cell lung carcinomas are usually treated with radiation and chemotherapy while non-small cell carcinomas are treated with surgery.
Stages of Lung Cancer
The stages of lung cancer reflect where the cancer has spread.
Non-small cell lung cancer:
Stage 1 - Cancer has not spread to the lymph nodes.
Small cell lung cancer:
Limited - Cancer is in one lung and the lymph nodes nearby.
Causes and Risk Factors
By far, the most common cause of lung cancer is tobacco smoke. This smoke contains carcinogens that cause cancer and they immediately change the tissue in the lungs. After repeated exposure, the cells become badly damaged and cancer may occur.
Causes for people who do not smoke include: hereditary factors, secondhand smoke, radon, asbestos, and air pollution. The risk factors for getting lung cancer include:
Smoking
Secondhand smoke
Exposure to radon gas
Asbestos, or pollution
Family history
Drinking alcohol excessively
Certain lung diseases
---
lung-cancer

---