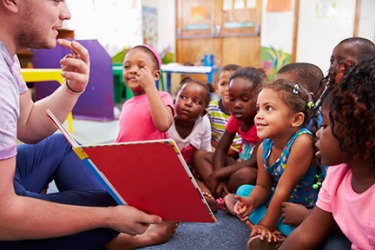 A teacher reading a story to a group of preschool students.
adjective
The definition of preschool is someone or something related to children too young to attend school.

A book catering to 2-5 year old children is an example of a book that would be described as a preschool book.
noun
Preschool is an educational program or school environment targeted to young children before they attend kindergarten.

A school for children ages 2-5 who are too young for kindergarten is an example of preschool.
---
preschool
designating, of, or for a child between infancy and school age, typically a child three to five years of age
a school for very young children, usually those three to five years of age
---
preschool
adjective
Of, relating to, intended for, or being the early years of childhood that precede the beginning of elementary school.
noun
A school for children who are not old enough to attend kindergarten; a nursery school.
---
preschool

Adjective
(comparative more preschool, superlative most preschool)
Noun
(plural preschools)
A nursery school
Verb
(third-person singular simple present preschools, present participle preschooling, simple past and past participle preschooled)
To provide nursery school education for.
(intransitive) To undergo nursery school education.
---