Pisces

Pi·sces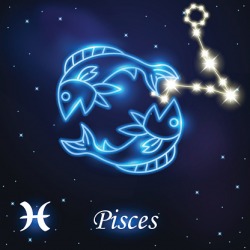 Pisces
noun
The definition of Pisces is a constellation which can be seen in the sky by both hemispheres from February to March.

Facts About Pisces

The two fish that make up the constellation Pisces are said to be the representation of Aphrodite and Eros, who plunged into the River Euphrates in an attempt to escape the wrath of the fire God, Typhon. The mother and son were transformed by two fish, Pisces, as a means of protecting them from the fire god. In turn, the fish earned themselves a place in the heavens, tethered at the rear fins to ensure that they would never be separated from each other's side.
The location of the constellation Pisces is said to be in the expanse of the sky that is referred to as "The Sea."
Pisces is a water sign.
It is located directly between two other constellations - Aquarius (located directly to the West) and Aries (directly to the East).
The constellation also contains a part of another constellation that isn't located within the zodiac: the constellation called "The Turtle." The turtle constellation is found to share stars with Pisces which are said to have been the turtle's head.
The two fish in Pisces point in separate directions, with Piscis Boreus (The North Fish) pointing to the North, and Piscis Austrinus (The South Fish) pointing to the South.
Pisces is the astrological sign of those who are born between February 18th and March 20th.

An example of Pisces is one of the largest signs in all of the 12 zodiac constellations, with 21 stars making up the v-shaped constellation.
---
Pisces
a N constellation between Aries and Aquarius; the Fishes
the twelfth sign of the zodiac, entered by the sun about February 21
a person born under the sign of Pisces
Origin of Pisces
Middle English from L, plural of
piscis,
fish
---
Pisces
noun
A constellation in the equatorial region of the Northern Hemisphere near Aries and Pegasus. Also called Fishes .

a. The 12th sign of the zodiac in astrology. Also called Fishes .

b. pl. Pisces One who is born under this sign.
Origin of Pisces
Middle English
from
Medieval Latin
Piscēs
from
Latin
piscēs
pl. of
piscis
fish
---
pisces

Noun
(plural Pisces)
Someone with a Pisces star sign
Origin
From Latin piscÄ"s, the nominative plural of piscis ("fish").
---