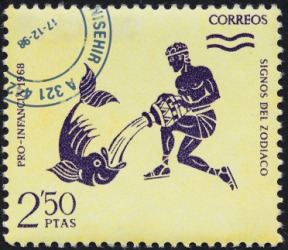 Postage stamp showing the zodiac signs of Aquarius.
---
Aquarius
noun
a large S constellation, near the celestial equator between Cetus and Capricornus; Water Bearer
the eleventh sign of the zodiac, entered by the sun about January 21

also called the Water Bearer

a person born under this sign
Origin of Aquarius
Classical Latin the water carrier: see aquarium
---
Aquarius
noun
A constellation in the equatorial region of the Southern Hemisphere near Pisces and Aquila.

a. The 11th sign of the zodiac in astrology.

b. One who is born under this sign. In all senses also called Water Bearer.
Origin of Aquarius
Middle English, from Latin,
water carrier, the constellation Aquarius
, from
aqua
,
water
; see
aqua
.
---
Aquarius
Proper noun
(symbol ♒)
(astronomy): A constellation of the zodiac, supposedly shaped like a water carrier.
(astrology): The zodiac sign for the water carrier, ruled by Uranus covering January 21 - February 19 (tropical astrology) or February 15 - March 14 (sidereal astrology).
terms etymologically related to Aquarius
Noun
(plural Aquariuses)
Someone with an Aquarius star sign
---